This article contains an introduction and instructions for efficient accounting of income from the Quickorder checkout system.
Overview :
1. Create a login to Backoffice for your bookkeeper
2. Integration to Accounting software
3. Common report
4. Cash settlement
5. Gift card
6. Costs to payment provider
7. Extract to CSV, Excel or Visma
8. Tips
1. Create a login to Backoffice for your bookkeeper
To ease the work yourself and your bookkeeper we recommend creating a separate login to your bookkeeper so they can get the data they need themselves. There are no costs associated with creating this user.
Go to pos.quickorder.io and log in
Go to Settings > Users > Create Account




Fill in Name, Email, Password and Role

You log in with your e-mail and code
There are two types of roles

Admin : Admins can add and edit users and admins. They can log in to all departments in a chain
User : A user cannot edit anyone but themselves. A user can only log in to the departments to which the admin has given the user access, and can therefore also only see statistics for the corresponding departments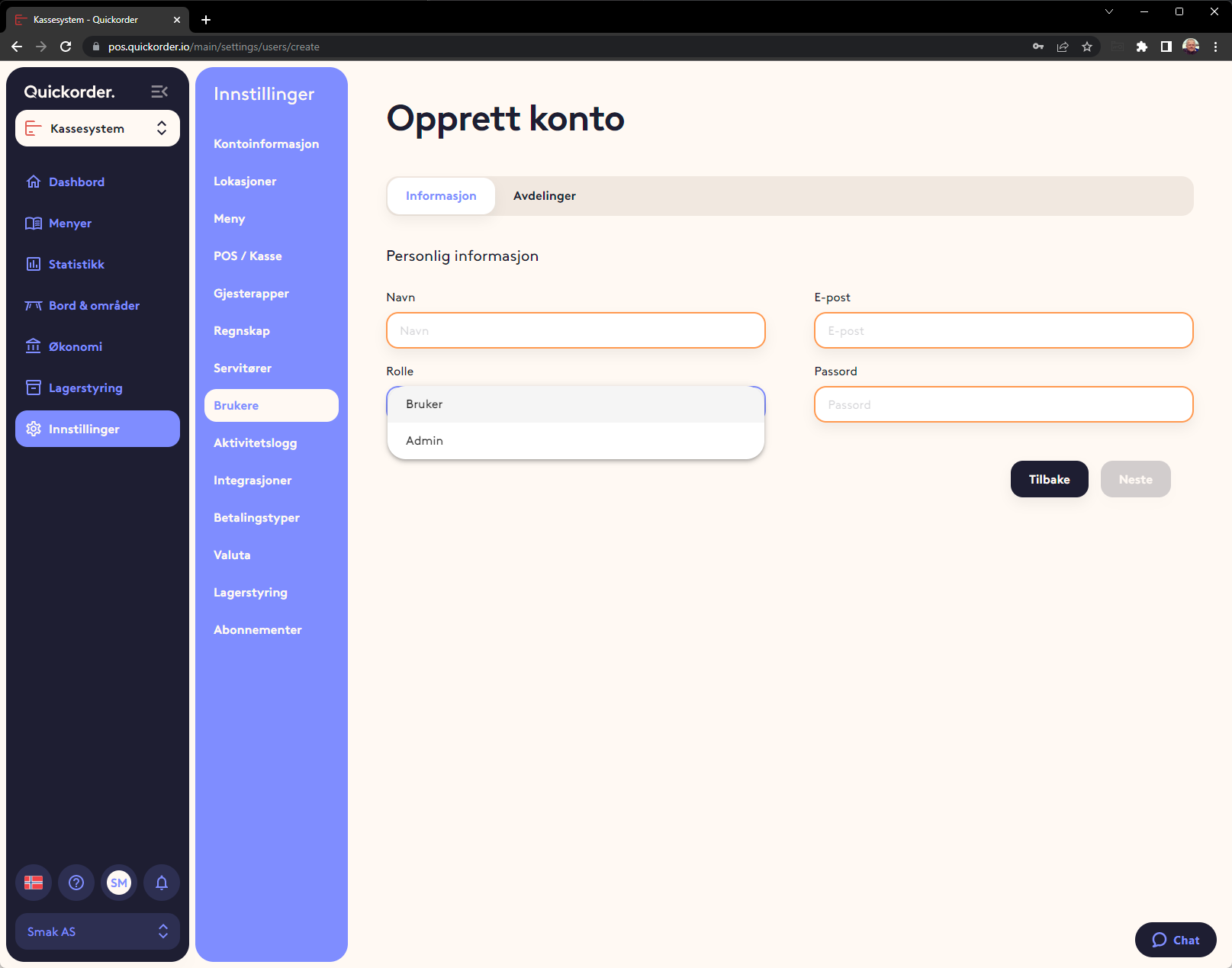 Press Next
Choose which department the user/admin should have access to by checking the box on the far right
Then press Save
Give your bookkeeper the login information (e-mail and code)
2. Integration to Accounting software
We have integrations with several well-known accounting systems. They work in that the turnover divided by payment types is sent over to the accounting system. These must be linked with the turnover account, voucher entry and VAT codes, so they are sent to the right place.
You can find the guidance for the different systems under:
Integration to Tripletex
Integration to Fiken
Integration to Visma eAccounting
Integration to Poweroffice GO
Export of accounting figures to Visma Business
Export of accounting figures to 24Seven
Integration to E-conomic
Integration to Dinero
Integration to Billy
Integration to Xero
3. Common report
Here you will find relevant figures for the accounts. This is called "Common report" because it combines all daily reports (Z-reports) and all online sales in one report. It is this that is used to reconcile or keep accounts according to.
It is NOT recommended to use Z reports to maintain or reconcile the accounts. It is simply impractical, as there is a Z-report for each day for each checkout point (each iPad). Z-reports also lack sales that come in from web orders, as these are not entered at a specific checkout.
Go to Finance > Reports
On the Common Report, you can see all relevant accounting figures for a specific day or any period.
You can choose whether you want to print it out or send it directly by e-mail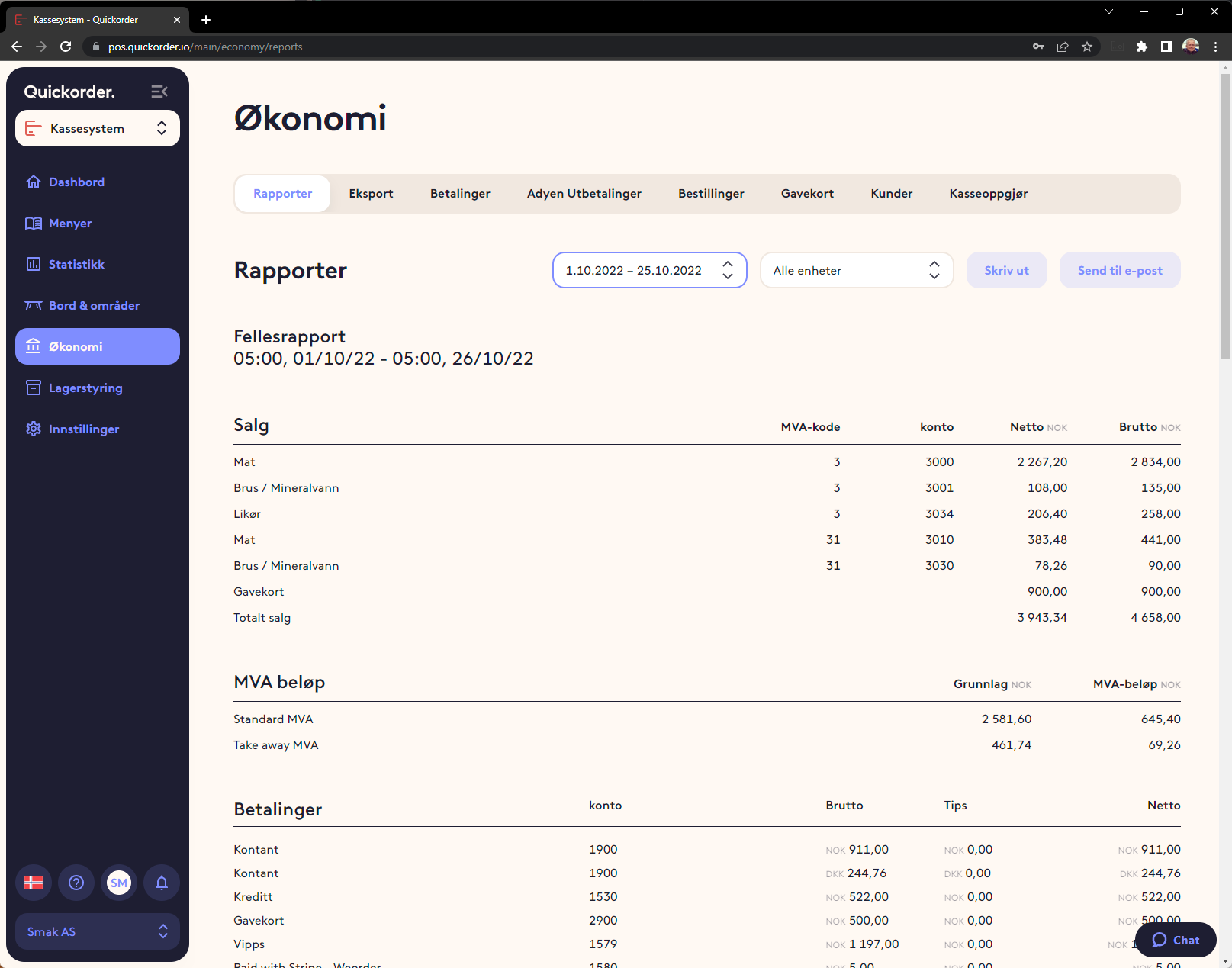 4. Cash settlement
You can choose whether you want to use cash settlement. If this is done, you can see the registrations in the back office as well as at each cashpoint (each iPad)
Go to Finance > Cash settlement

Here you will find an overview of dates and cash registers that have been counted. On the right-hand side, you can see whether a difference has been registered or whether the balance is OK. This makes it easy to see which days there has been a difference.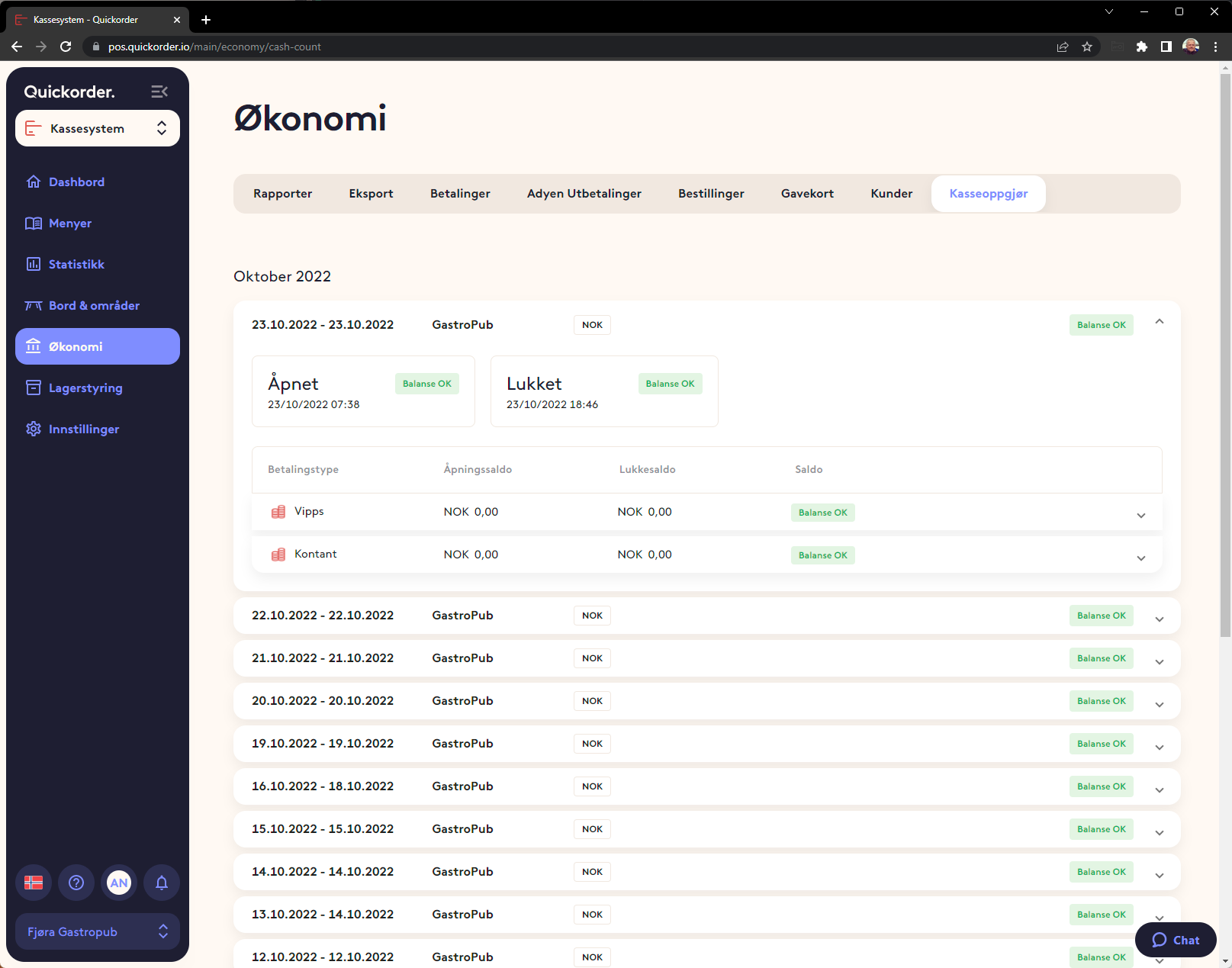 5. Gift card
Transfer of gift card sales must be activated on the "Gift card" payment type to be included in the accounts. Guidance for this can be found in each integration's guidance.
If the accounts are kept manually, sales on the joint report will include all gift card sales.
Settle:
There is a detailed gift card report under Finance -> Gift cards. It will show all history relating to gift cards.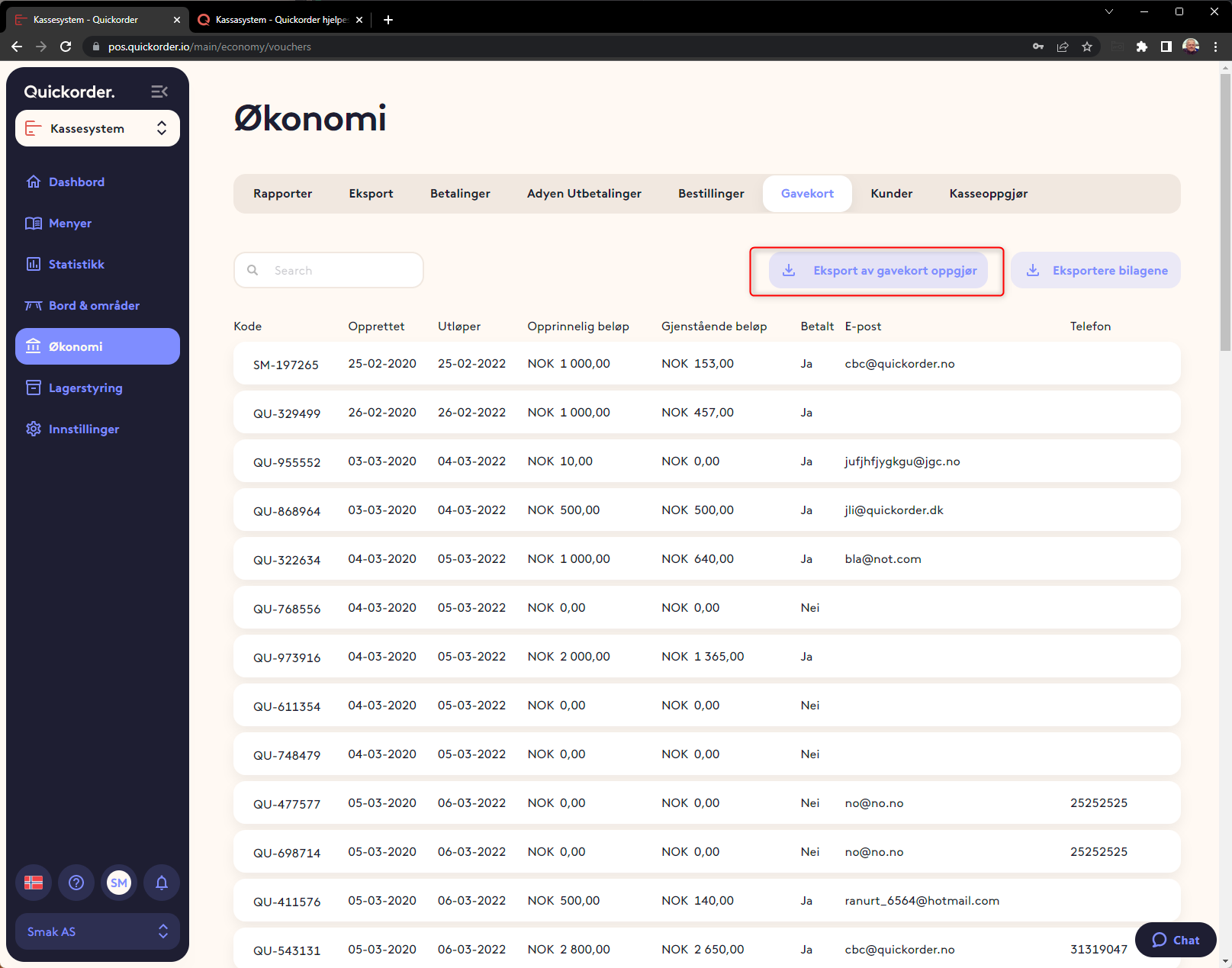 6. Costs to the Payment Provider
The figures in the back office only show income and not costs to the various payment providers. These must be collected directly from the payment provider.
It can be Vipps, Zettle, Nets etc.
With Weorder as one of our products, costs for Weorder can be found in the Weorder backoffice under Reports > Payouts.




If a separate auditor is required to log into the Weorder account, send an email with the auditor's name, e-mail address and phone number to support@quickorder.io .
Adyen payout report
If online functions are used directly in Quickorder (QR on the table and Takeaway), then payments through Vipps and cards will be handled by Adyen. Payment reports are available in the Quickorder back office under Finance -> Adyen payments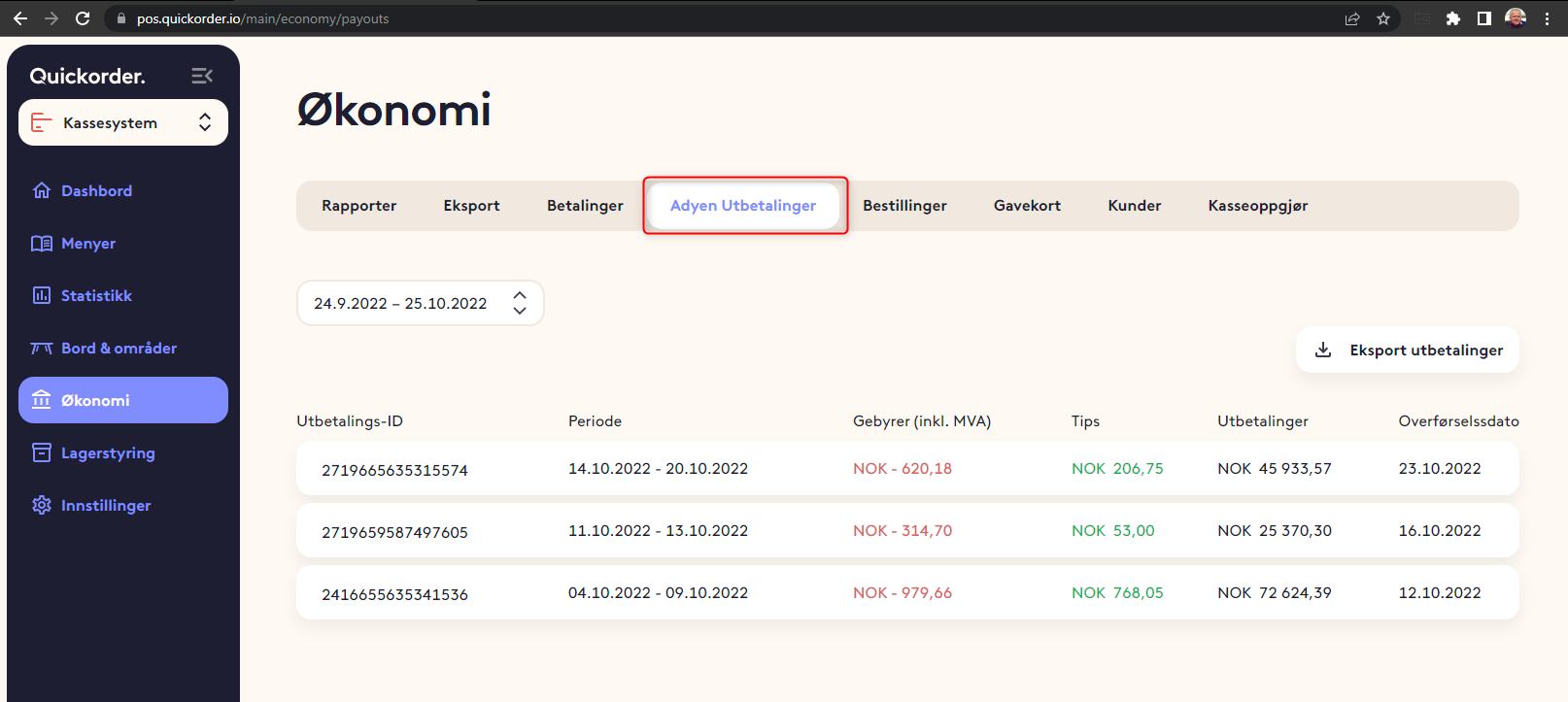 7. Extract to CSV, Excel or Visma
Before an extract to a text file is possible, it is necessary to have the layout created first.
Create the layout. You can see a guide on how to do this in points 2-4 of this guide.
When settings for product types, payment types and VAT codes have been entered, you are ready to extract a file.
Select Finance > Export
choose period
Now the same data that will be exported is shown in a preview. Check that it matches what you expect to be transferred.
Tap Export



8. Tips
In Quickorder POS, tips are only registered if they take place via an integrated payment solution, eg Nets and Zettle. Here they will be registered with the waiter who receives the payment and will subsequently appear in the joint report.
This means that for cash and non-integrated payment types, tips must be registered manually. This is done in connection with the cash settlement.
Bookkeeping of tips is always manual.