Here is a short guide on how to use Quickorder POS in connection with invoice customers
Quickorder POS cannot send an invoice directly, nor is it intended or beneficial.
An invoice to a customer is sent from an invoicing or accounting system. There you have the option of sending an EHF invoice, keeping track of outstandings, reminders, credit limits and many other things that are not possible in a cash register system.
System setup – Create the payment type «Credit»
In order to use the Invoice/Credit system, the payment type "Credit" must be activated.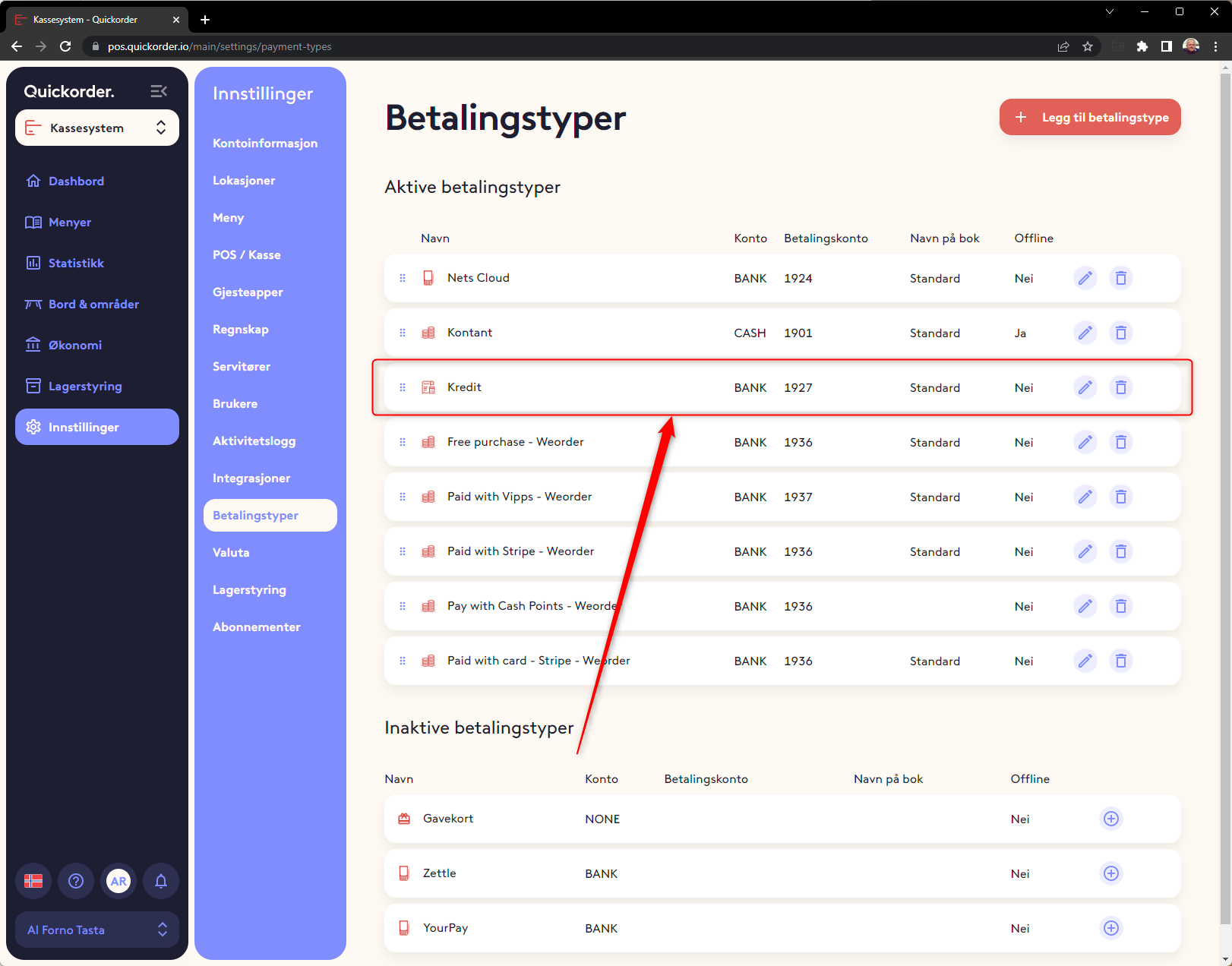 It is recommended to turn off the transfer of postings to the accounts if the invoice is written in the accounting system. Otherwise, the turnover will be double.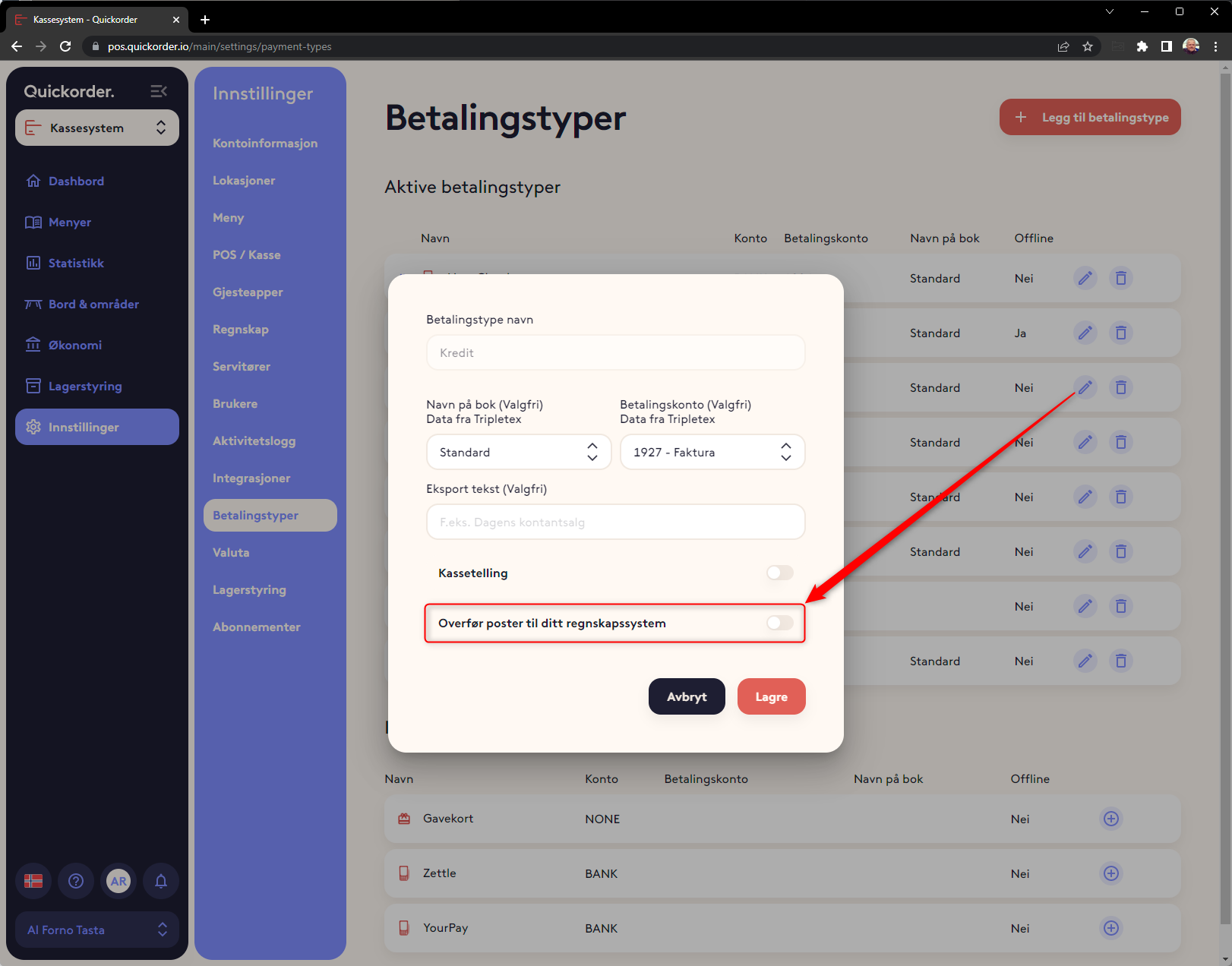 Create customer.
Before a credit order can be written, a customer must be created. It is possible to create customers both in the back office and on the iPad.
Back office: Finance -> Customers
Quickorder POS: Modules -> Customers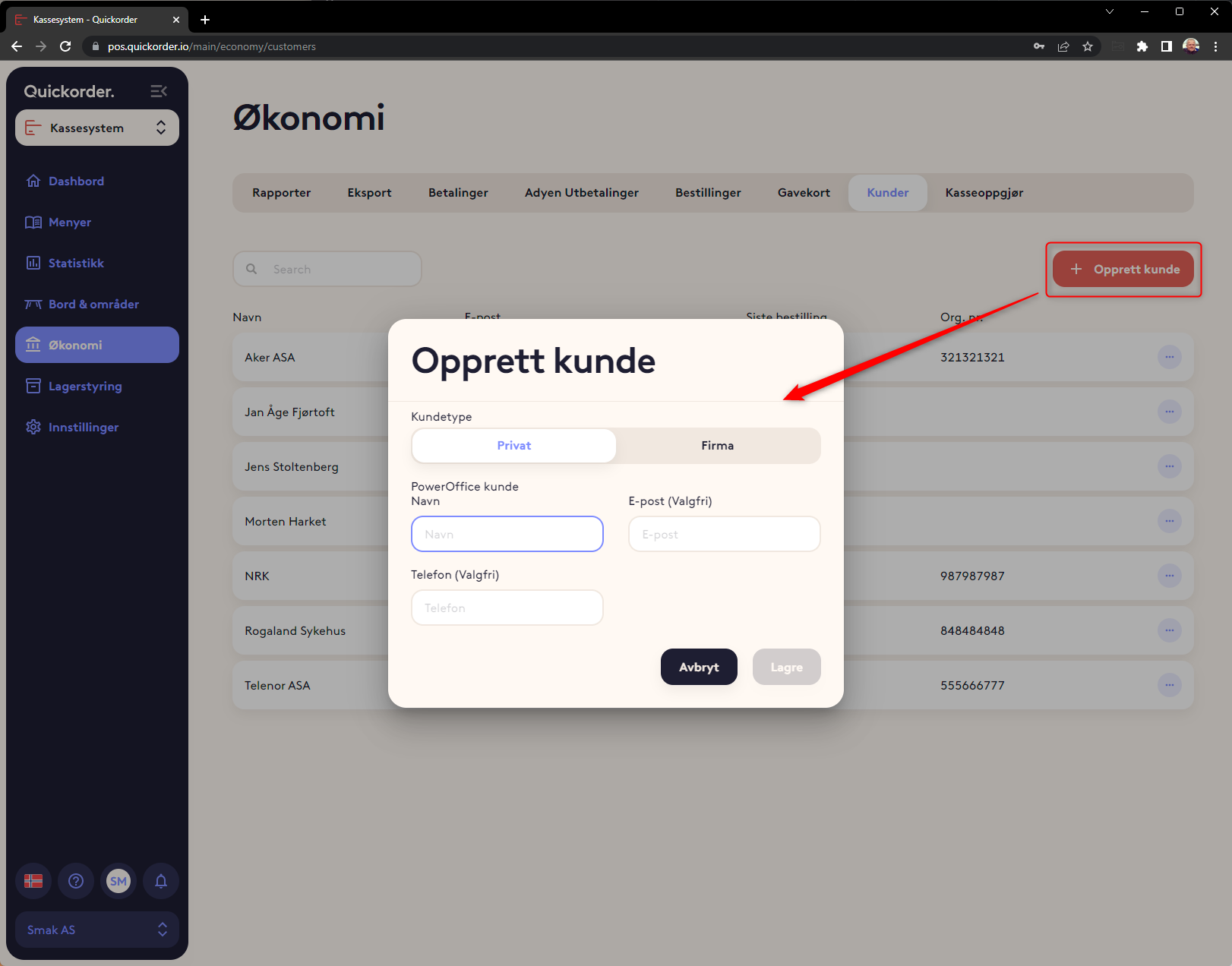 Notation of delivery – «Payment» (Delivery receipt)
When you take "payment" for something that needs to be invoiced, you choose "Credit" as the payment type.
It must be linked to a customer (It is not wise to give credit to "nobody") It is therefore not possible to use credit without selecting a customer.
Please note that it is not possible to take partial payment with Credit. Then the system does not know what is to be invoiced. If a table is to be split up, then it must be done "correctly" by dividing the bill by dividing the goods.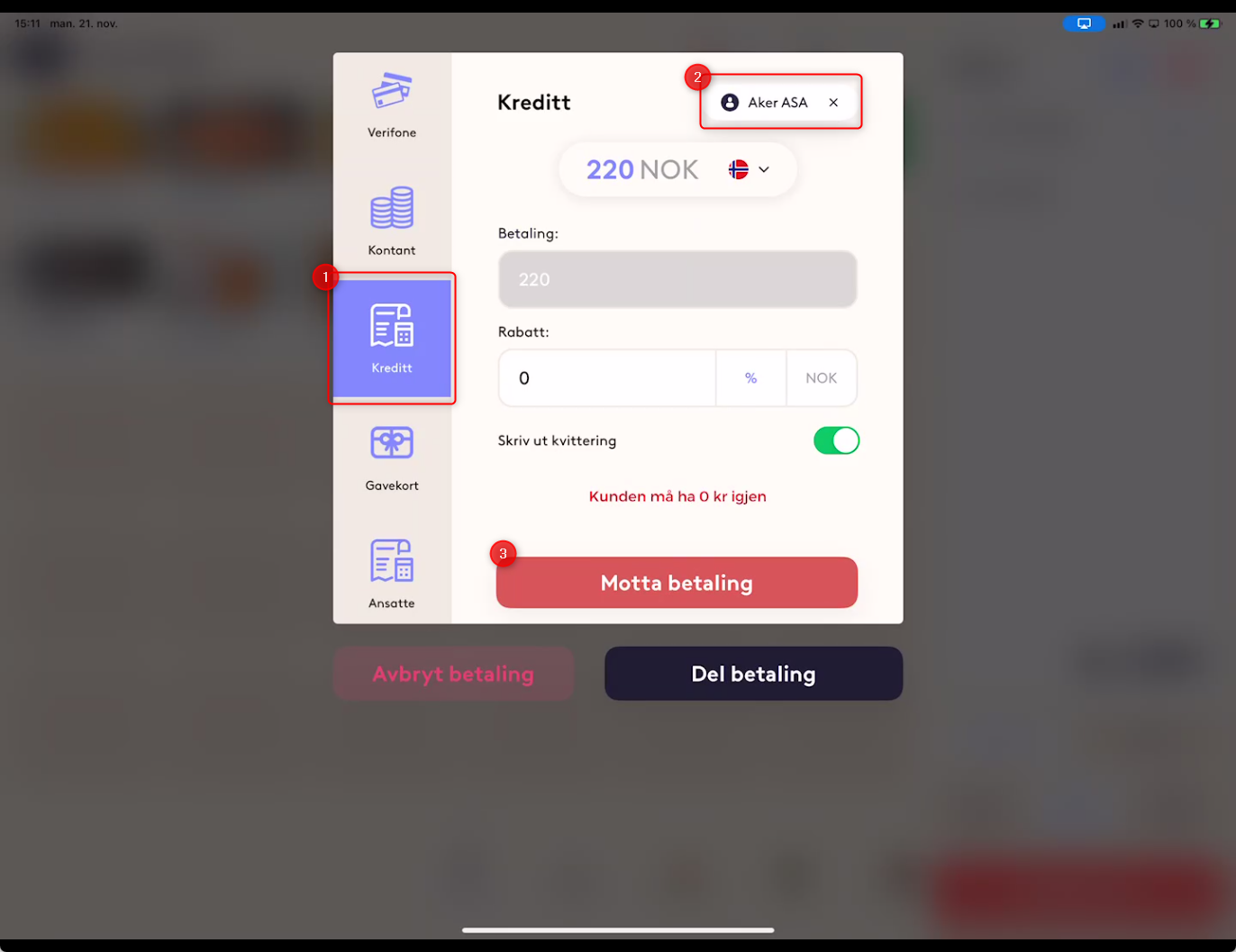 It is possible to enter the name or requisition number in connection with noting delivery. (Next picture)
Then, two "Delivery Receipts" come out. One for the customer, the other for the accounts. There is space for the customer to add a signature.
Invoicing basis - Overview of Deliveries to a customer
From the back office, it is possible to get an overview of deliveries for a period. This is what an invoice should be sent on. Customers and the order overview can be found under Finance -> Customers.
The list can advantageously be sorted by those who have received deliveries most recently. (1)
Select dots and > Order overview for the customer you want to see. (2)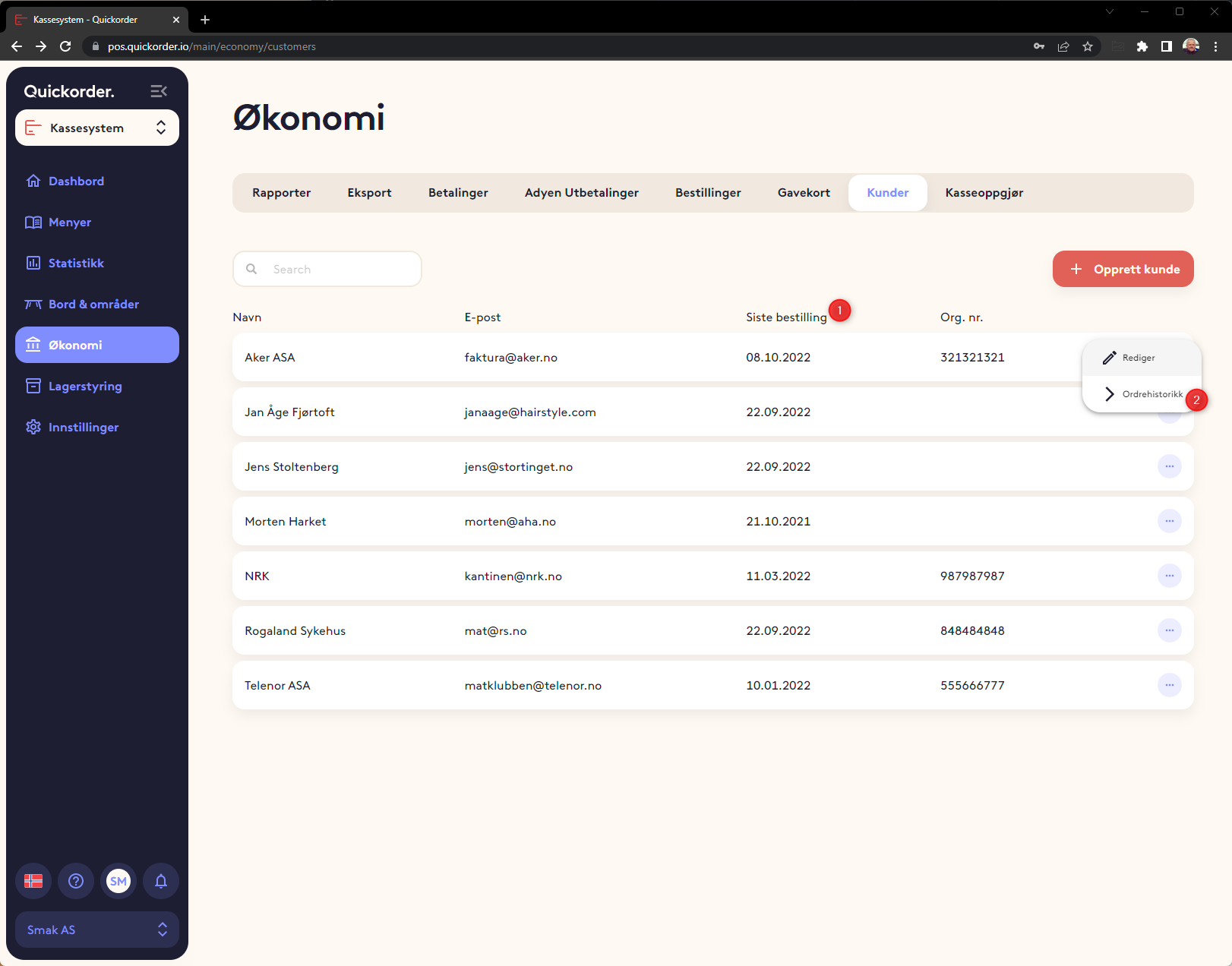 Then, you can select a period (1) and then download an INVOICE REPORT (2)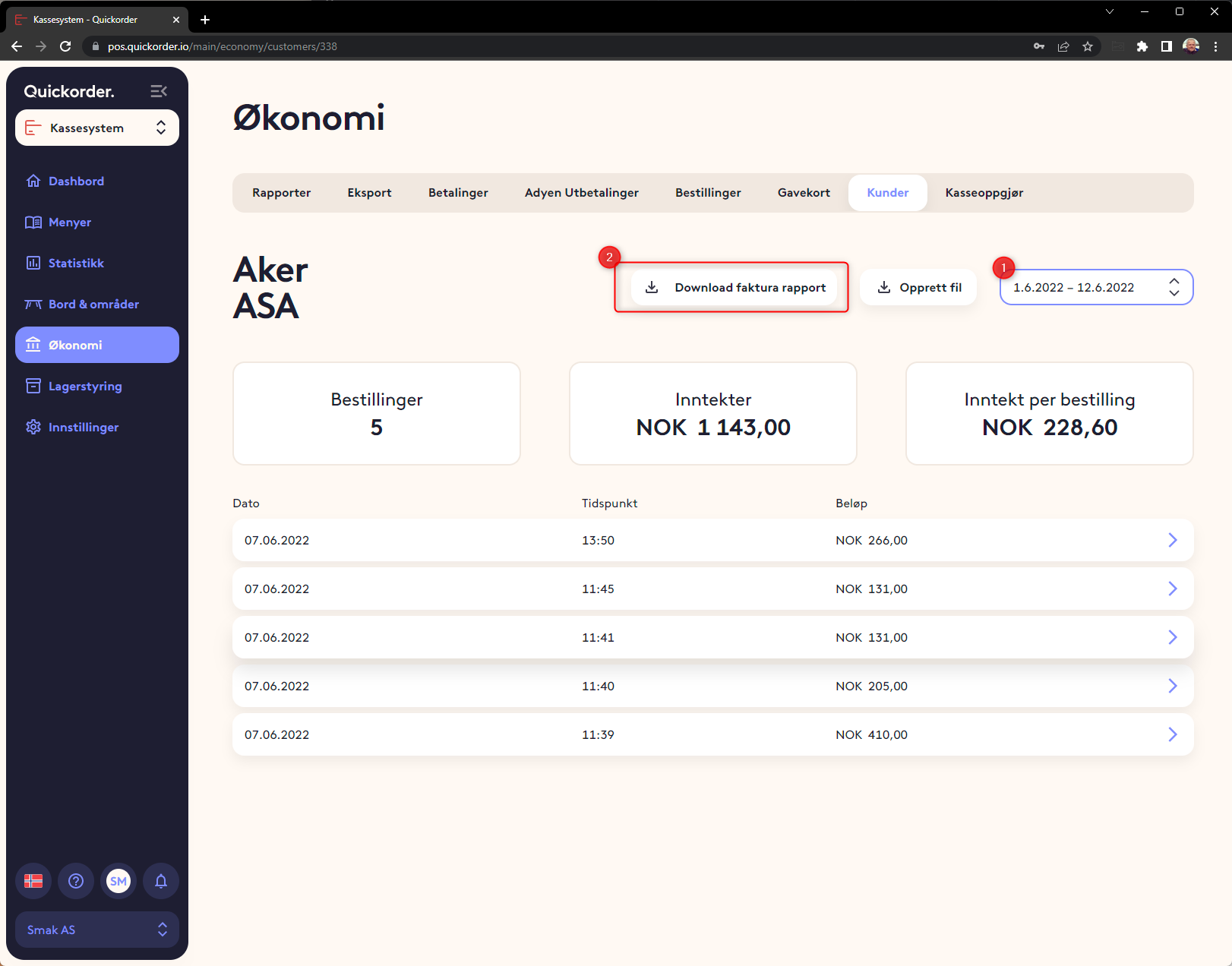 Here is an example of a report
Note that it is both a receipt per delivery and a sum of all deliveries in the period selected.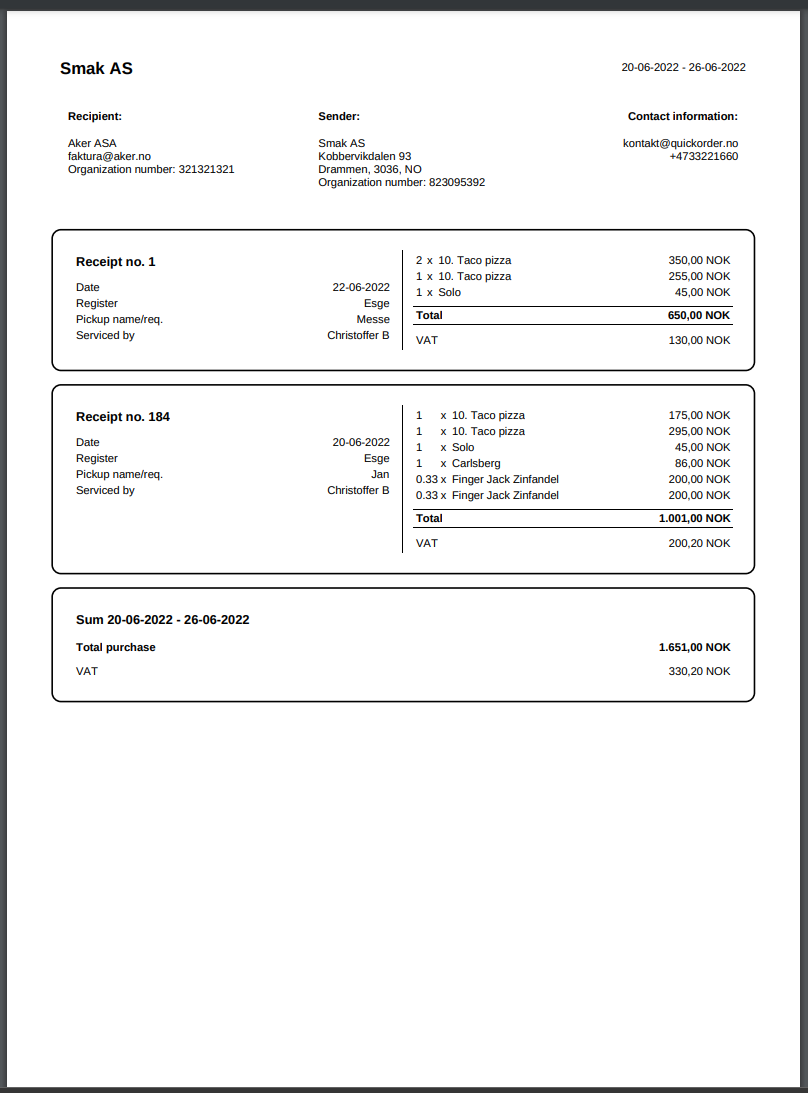 Invoice from the accounting system
Invoices from the accounting system can basically be created in 2 ways.
Method 1:
It can be created as a "normal" invoice with product lines that form turnover. If you do that, it will be necessary and NOT book the turnover of credit or "turn off" for the transfer of items on the payment type "Credit" from Quickorder, if you use integrations for transfer to an accounting system.
Method 2:
In many invoice/accounting systems, it is possible to create an invoice that does not generate revenue. What you want is only to move the debit amount from the Credit payment method and onto the current customer.
Explained in another way: Then the invoice must only contain one line «Food/drink according to the attached overview» This invoice must not record turnover and it must not contain VAT. It must credit the account in the accounts which is associated with the payment type «Credit» and debit the customer. If this method is used, the turnover from the «Credit» payment type must of course be transferred completely as usual.
If the accounting office does the invoicing, create a user in the Quickorder back office so that they have direct access. It costs nothing.
New user is created here:
Settings -> Departments -> Users

See also the guide to accounting: Introduction-to-accounting