This article shows how to create gift cards and how to use them in the system.
Table of Contents
7. How to convert old Gift Cards
1. Create a Gift Voucher
Gift cards are an integrated function in Quickorder POS. You can use it immediately. It will work with email and printing of gift cards for the customer.

Do you want physical NFC cards for your guests? Call us or send us an email to find out more. You have the option of having your own logo and design on it.

The card type to be used is MYFAIR 1K or equivalent such as: FM 1108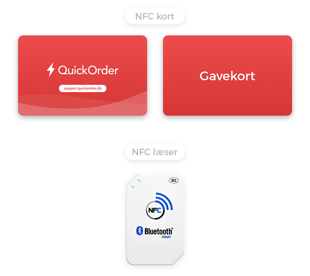 Open the Quickorder POS app
Go to Modules > Gift card > Create gift card





Enter the following information:
Email: Enter email to send a digital version of the gift card to the guest Valid from: Choose a date when the gift card should be valid from Amount: Enter the value of the gift card Phone (optional): Might be a good idea , if you need to contact the guest, for example. Link NFC card: If you have NFC cards, you can link a gift card to these. Take an NFC card and place it on your NFC reader to link the card to the gift card you create . The gift card must be paid: If you want to sponsor or give a gift card away, you can turn off payment. It appears on your daily report




how much is available in gift cards
Press Create gift card



2. See History on Gift Cards
Tap on a gift card, after which you will receive:

An overview of movements on the gift card
If you tap on one of the payments, you can see what has been ordered and you can even print a copy of the receipt for the purchase


TIP: Find a specific gift card by searching for the unique ID (found on the sent email or printed receipt). If you use an NFC card, you can search for your gift card by pressing the red search icon to the right of the search field, after which you simply scan the NFC card on the NFC reader.
3. Edit Gift Card
Tap on a gift card and click on the nut in the top right corner




You can now edit the e-mail, phone and NFC card as well as delete and print the gift card
4. Use Gift Vouchers
Select Gift card in the payment window
Press Take towards Gift card payment




Select a gift card from the list or search for it via the Search field
Press Select gift card




If there is a remaining amount that the customer must pay, this will appear, and you can then accept this remaining amount by choosing one of the other payment types
. If there is still money left on the gift card, a new gift card will be printed for the guest, on which the remaining balance appears


5. Connect NFC reader
At the top of your NFC reader, turn it on by putting it on Bluetooth as shown in the picture.
After that, one lamp will light up blue and be ready to connect with your iPad




Tap Modules > NFC



Tap Add

Name the NFC reader and select ACR1255U-XXXXX in the device overview and press Create





It will now say Federation
6. Export Gift Cards
Open your web browser, go to pos.quickorder.io and log in
Go to Finance > Gift cards

Export gift card : Generates a .csv file that shows an overview of your gift cards
Export gift card balance: Generates an .xls file that shows a balance overview of gift cards as well as a transaction list for reconciling accounts


7. How to convert old Gift Cards
When starting with Quickorder you may have old Gift cards from the system you used before. Here is how you convert old gift cards into Quickorder gift cards.
Start by creating a manual payment type called "Old Gift card". This payment type should have the ledger account number used in accounting.
The Quickorder Gift card payment type should get a NEW account number. That way you can reconcile both the old and the new gift cards.
It's not practical or necessary to convert all gift cards in advance. The best way is to convert them as customers show up to use their gift card.
If a customer uses all the old gift card, then simply use the payment type "Old gift card".
If there is money left on the old gift card, then issue a new Quickorder gift card on that amount. You sell the gift card using the payment type "Old gift card".
8. Export to accounting
In order for gift cards to be transferred, it is necessary to activate this
Go to Settings -> Payment types
Select the pencil on "Gift card" and make sure that transfer to accounting is switched on
Add the gift card account.
Be aware to activate VAT on gift cards in Denmark.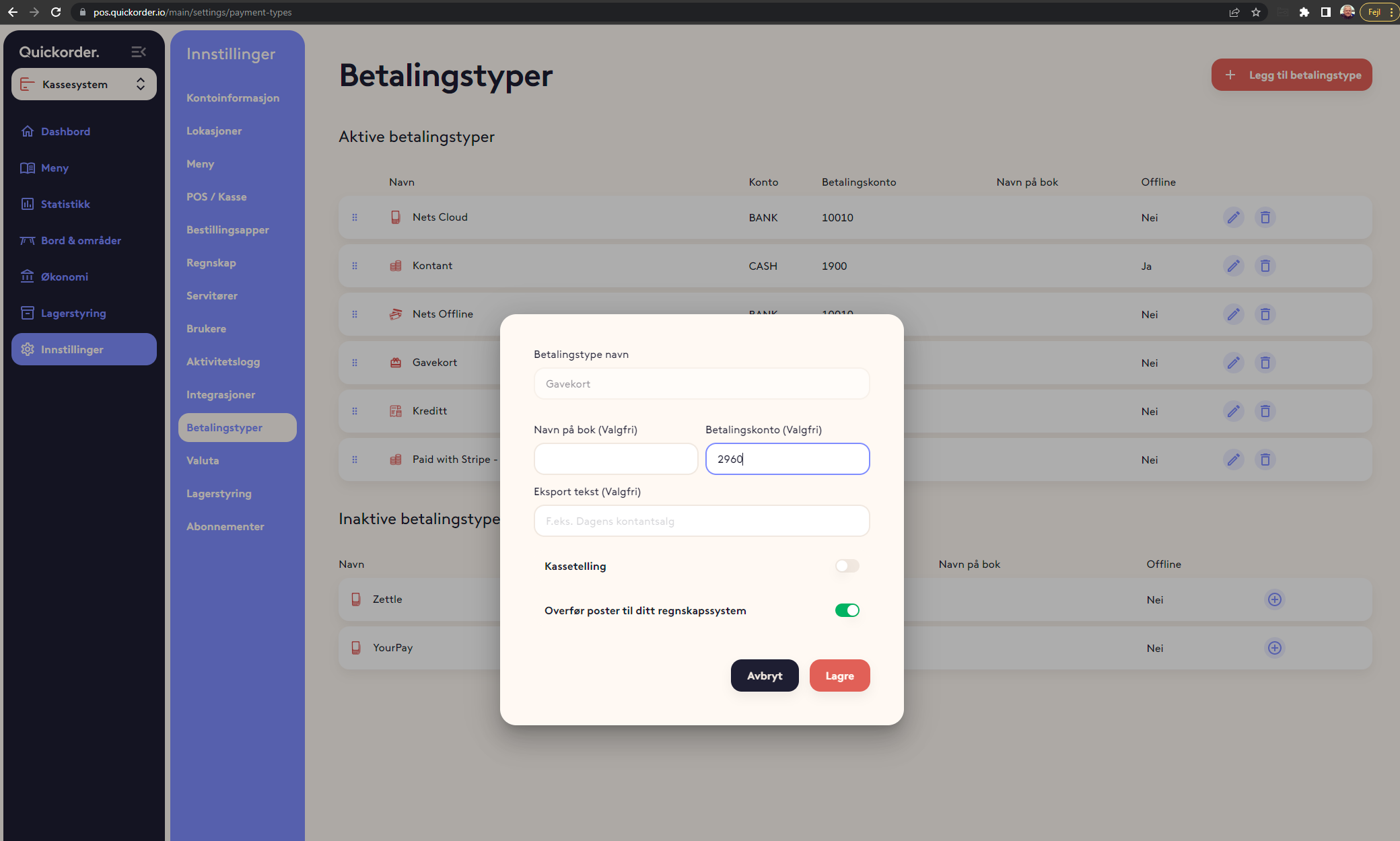 Congratulations! You now know how gift cards work! 🤩